The process of selecting the right sofa in 2020 for your home can be an overwhelming experience. You might think you know what you want, but all the available choices make the decision almost impossible!
And it's no wonder. Sofas are not only functional but also an important furnishing part of the home décor concept.
Whether you're thinking about purchasing a luxury sofa or an ergonomic sofa, you'll find that there are many different types to please every taste and need.
How to Choose a Sofa
Buying a sofa can be an investment. You'll want something of good quality that could even pass on to your children. Before deciding in rush and regretting it later, consider these few elements first:
Size and Shape
What's the available space in your living room? Your sofa's size will depend on where you want to place it, as it should not block your access to other parts of the room. Larger spaces have greater advantages and allow more experimentation.
Layout tip: Instead of showing its back, the sofa should face the visitors when they're entering the room. It helps to create a warm environment.
Purpose
This element will most likely affect its comfy factor as well as its lifespan. A backless sofa is suitable for people who like to curl up with a book, while large families might prefer a traditional sofa.
Upholstery
Resist the temptation of choosing an unpractical upholstery only because it looks pretty. Do you have small children or pets? It might be better to choose a fabric that's easy to clean. Leather is always a good option; it's classy and goes with any style.
Style
Practicality is important, but of course the style as well. After all, you don't want to spend time in a place that's not appealing to you. Sofas help to highlight the focal point and will complement (or ruin) the décor.
Colour
Don't be afraid to experiment with colours and patterns! Use the sofa to bring contrast to the rest of the room.
Comfort
This should be an obvious element to consider, after all, why spend so much time thinking of practicality if it's not going to be comfortable to sit in/lay on?
Different types of sofas
Sofas are a really old type of furniture around the world, and as such, it has evolved with time. The most common types of sofas you can find today are:
Sectional: It's a multi-piece sofa, usually with three to five parts, that you can arrange in "L" or "U" shapes. A good choice for contemporary homes.
---
Chesterfield:
It has deep button tufting, frequently upholstered in deep brown or black leather. Suitable for old style and luxurious living rooms, home offices and "man-cave".
---
Lawson: Its loose large back cushions and simple box design make it one of the most comfortable and versatile options. It's great for a "homely" decor. Comes in all kinds of fabric.
---
Mid-century Modern: Very popular at the peak of the modernist home deco style. Yet, its rectangular shape, wooden legs and clean lines make it a perfect option for a modern, minimalist or contemporary decoration. They look uncomfortable at first sight, but the deep cushions tell a different story.
---
English Roll Arm or Club Sofa: It's known for its low and rounded arms and deep loose cushions on the bottom, as well as for its tight back. Comes in all kinds of fabrics and colours and work in any setting.
---
Camel back: Easily recognizable thanks to its arched back that evokes a camel, to which this sofa owes its name. It has a traditional and formal design with a tight back, low and exposed wooden legs and high armrest. It's a very elegant choice.
---
Cabriole: It has a beautiful and delicate style with curved lines, ornaments or engravings. The legs and armrest frequently curve outward and down, giving it a feminine look. A perfect choice for a classic home decor.
---
Chaise Lounge: Literally a "long chair". It's a comfortable sofa choice for one person. Perfect for long reading afternoons. It may come with only one armrest or without any, giving it a sort of asymmetrical look. It's highly versatile and fits all kinds of decorating styles.
---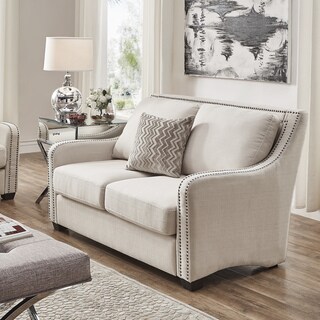 Love Sofa or Loveseat: It's basically a sofa that only fits two people, which helps to create intimacy. It comes in a large variety of forms, styles and fabrics, but it usually has a tight back and four to six legs for extra support. "Settees" are similar to Love sofas, but even narrower. A Loveseat is in the small-sized sofas category.
---
Tuxedo: Sometimes considered a modernized version of the Chesterfield. It has a clear, box-like, geometric form, with arms and back of the same height that provide good support to sit comfortably. A versatile sofa that fits formal and contemporary looks.
---
Knole: It has a deep seat and straight high back. The armrests are as high as the back, but they're frequently adjustable outwards to give it a more relaxed look.
---
Sleeper Sofas: The sleeper sofas have an interesting history and there are many types.
The futon is probably the most popular sofa/bed combination, with a reclining back that creates a flat surface.
The Sofa Murphy Bed combo is another popular option for smaller homes that require an efficient use of space without sacrificing the look of the living room.
Pull-out sofa beds are another popular option for houses that expect many guests; the main difference with the futon is that the back remains fixed while the sleeping section folds, creating the bottom of the sofa.
Daybeds and divans have the clear purpose of serving for sofa seating during the day, and as a bed during the night. They may come with or without a backrest.
How to Check the Quality of a Sofa
Double the price, double the quality! Yes, quality and style don't come cheap, but it is possible to make a good selection without going overboard with your budget. Here are some helpful tips:
The Frame
Always look for a strong and sturdy frame. Kiln-dried wood is the best option. Plywood and particleboard joined by staples have less quality and endurance, but it can work with additional layers and reinforced with metal screws and brackets. Test the quality of the frame by lifting one of its legs. If the opposite leg is still touching the floor, it means it's too weak.
Springs and support
A good frame works with the springs to provide good support. The best way to test it is by simply sitting on the sofa, preferably in a corner or the outside edge. If it squeaks or sags then the springs are incorrectly placed, which will affect the support and your posture.
Filling
The density of the filling will determine how firm or soft it is. The choice depends mostly on your own taste, but keep in mind some materials -like dacron-wrapped foam- don't last too long. Goose down feathers have more quality but are also more expensive and require high maintenance.
Upholstery
The upholstery choice will also affect the durability of a couch. The material depends on the environment. Cotton and linen are better for warm climates, but can deteriorate quickly; and synthetic leather flakes in high humidity. Leather is the best option, especially if you have the budget to purchase from the best leather sofa brands like Bradington-Young, Presidential or Hancock & Moore, but it can be quite pricey.
A more budget-friendly choice is a durable and easy to clean fabric. Cushions with zippers are also an option because you can remove the upholstery and wash it.
In any case, always check the quality of the stitches, they should be even and have a strong thread.
Where to Buy a Luxury Sofa
One Kings Lane has a great offer of some of the most expensive sofas you can find online. Its user-friendly website and menu will help you find exactly what you want, including luxury sofas.
Even if you don't purchase from the top-selling websites, it will give you a general idea of what to look for.
Buy a Sofa on a Budget
IKEA and Amazon are probably the most popular choice for any kind of furniture, with low prices. They are good places to look for budget-friendly sofa under 300 or even under 200 (including online offer), especially through buying online with Amazon because of the access to user reviews and fast shipping.
However, keep in mind that any new sofa under 200 or even a sofa for less than 100 should make you question its quality; and don't forget the shipping cost!
Get the Right Sofa Bed
When picking a sofa bed, the same principles apply.
First, set your budget. What's the most you're willing to pay?
It should also be according to the size of the room, its furnishing and its users. Check if the convertible mechanism is easy to use, and test the comfort for both functions (take the opportunity to decide its primary function and the priority between sitting comfort, or bed comfort).
Sometimes, modern sofa beds have additional features like built-in shelves that can be very helpful and complement the rest of the furniture. Remember to pick one that suits your taste and style, so that it not only brings functionality but also decoration. Keep in mind other considerations such as upholstery, and colour.
Next, read: